Archive for September 2011
I was tickled to read this very concise look at how gentlemen can improve their mid-19th century impression… you'll want to visit and read it, too! With the expansion of citizen living history, more and more men are exploring the wide range of mid-century clothing styles, but one thing they all have in common is the need to wear those trousers at the right height! This, as with so many physical details, is another spot where looking at images of The Original Cast is a huge help; you'll enjoy some great images in the article. My thanks to Mr James Williams for making it available!
How To Wear Trousers Properly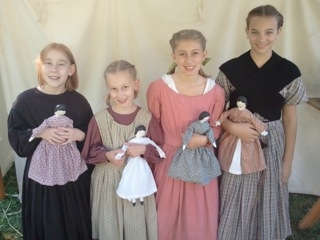 I count eight.
All four cloth dolls were made using our Great Auntie Maude's Favorite Cloth Doll Pattern, available in the Marketplace. It's so much fun to see the individuality each girl's doll has!
A simple cloth doll can be a great Christmas gift, and definitely works well in the toy basket for living history events. These girls are all set to do some high quality historic interpretation, just by sitting under a tree and playing together. They can also undertake their own doll sewing and gain useful historic stitching skills (to the delight of mothers everywhere!)
Thanks, girls, for sharing your dolls with us!