If you've been having a hard time reconciling a burgeoning pregnant figure with historic clothing, there are some snazzy tricks the Original Cast used, and you can use them, too! Yes, wearing a wrapper for half a year is one option, but if you're wanting a dress that looks like a normal dress, and can stretch through a pregnancy, and then be used post-partum, consider making an adjustable dress to start. (This is also a technique that can work if you need to have multi-fit dresses in a costume trunk!)
Mid-century styles actually make it easier to "dress the baby" than other eras; the rounder, slightly-higher waistlines of the 60s, for instance, are very forgiving through early pregnancy, and easy to use later, too.
Most women tend to gain inches through the torso and bust, but relatively few experience dramatic changes through the shoulders, so work up a copy of your base pattern that fits easily (but is not baggy) in the shoulders, and quite generously over the bust, with some decent expansion in the waist (say, 10″ across the front).
One way to do this is to slice up your waist-to-bust dart, and then over to the armscye. Swing the outer/side section of the bodice out to create a 5″ gap along the waistline (the section will "hinge" at the armscye), and trace the new, exaggerated shape. Leave your back bodice as-is. It's nice to have something that really fits, and a smooth back bodice helps with the end-of-gestation large-as-a barn feeling.
If you'd like to preserve a bit of "this is a real dress" feeling for the very end of pregnancy, do run a very little bit of gathering to mimic a gathered-to-fit bodice style.
Cut a strip of fabric (straight grain is great, bias if you need to) about 2-3″ wide, and of a length sufficient to span your newly-enlarged front bodice waists. This will be used to create an interior waistband or facing, through which three narrow tapes will be threaded in stitched channels, to adjust your dress bodice.
Press the short edges of the strip to the wrong side 1/4″, and position one short end just behind your desired bodice closure line, the other just in front of your side seams. Hem the upper edge of the facing strip flat to the inside of the dress, using a running stitch by hand. (Hand stitches show less on the outside, and are more flexible during use.)
Continue to stitch three 1/4″ channels along the facing, being sure to leave the exits on the short ends quite open.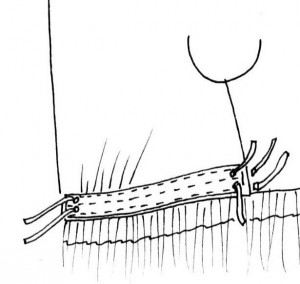 (showing the finished interior casing when skirts are attached; click to embiggen.)
Narrow twill tape can be threaded through to use in your bodice adjustments. You can either choose to sew the tapes firmly into the side seams, or have them adjust individually by adding short, permanently stitched tapes to the side seams, with which each tape will be paired and secured. The tapes exit at center front, and are adjusted and tied inside the bodice before the bodice is fastened.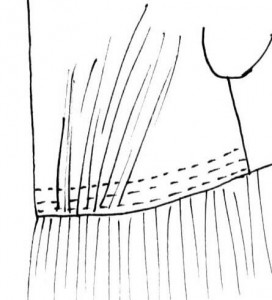 (from the outside, only a few running stitches show.)
Set your skirts to the expanded waistline, using gauging or whipped pleats.
In early pregnancy, or post-partum, the tapes can be snugged up comfortably, and the bodice will appear to be gathered-to-fit. There will be a slight bit of extra skirt bulk just in front, but it's generally not noticed, and in any case, is normal for this particular mid-century dress technique. In later pregnancy, the tapes are loosened to accommodate The Bump; in late pregnancy, they may be left untied altogether. Bust measurement increases will pull the front of the bodice up just a bit, with a handy side-benefit of raising the waistline for the baby, as well!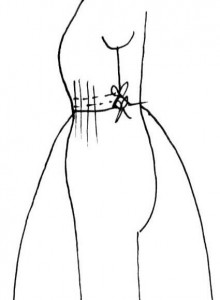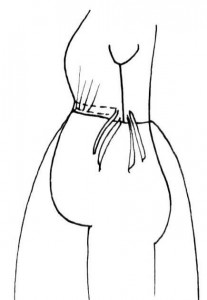 Add gestational and nursing corsets, and you can comfortably wear this style through pregnancy and for months beyond. If you'll be pregnant during the summer, utilize slightly V'd necklines, open sleeve styles, summer-weight fabrics, and half-high linings, to reduce the heat retention of your dress, as well.
And, just for something fun: if you're in the Pacific Northwest this summer, stop by Oregon City and the End of the Oregon Trail Visitor's Center, to see a great exhibit, "And Baby Makes Three: Motherhood and Maternity on the Oregon Trail" The exhibit is free to the public, and is open Thursdays through Mondays, 11-4.
Just a few more days to register for the Bozeman series, and join us at the Museum of the Rockies!
Hosted by the Museum of the Rockies, The  Sewing Academy will present a series of workshops in Bozeman, Montana, 10-12 May, 2012. Phone and mail-in registration are now open!
You can view and print the Bozeman Montana Registration Form Here.
Registration will close 1 May, 2012, but seats are limited, so register and reserve yours soon!
One of my favorite researchers is Anna Worden Bauersmith. She has such a lovely eye for detail, and goes beyond that to put thing into the larger context we all need for effective interpretive efforts.
So, do yourself a favor: pop over to her blog, read her most recent article, and then bookmark, like, or add her to your feed.
Taking a Closer Look, Part I
We're very pleased to announce that registration is now open for our upcoming Sewing Academy series, hosted by the Friends of Missouri Town 1855 in Blue Springs, Missouri (Kansas City, MO area).
We hope you'll join us Friday, 13 April 2012 and Saturday, 14 April 2012, for hands-on workshops that will inspire, instruct, and engage everyone from the newest newbie, to the moldiest oldie.
View and download the
Missouri Registration Form Here
.
(registration form on the first page, workshop details on the second)
Registration will close 15 March 2012, so don't delay. When you register, we'll process $20 of your total workshop fees and hold your seats. The balance will be processed at the close of registration. We'll have on-line registration coded and open next week; for now, feel free to call in or mail your registration!
With cooler weather reigning in most areas, you may be looking for those particular wardrobe additions that are both accurate, and designed to keep you warmer, safer, and happier at winter activities. Look no further than the glorious Winter Hood! Created separate from other winter wraps, your hood moves freely with your head, blocks drafts, and acts as a perfect platform for personal expression through the use of colorful fabrics, or even a touch of luxury in an otherwise working class wardrobe.
Here are some top-notch resources for accurately-made hoods, suited for all cool-weather living history endeavors:
Sure, we may end the year with destruction of epic Mayan proportions, but let's squeeze in all the great learning we can first!
You can download our 2012 Sewing Academy series planner now, and have Elizabeth come to you for a full weekend of fun and hands-on education.
Download the 2012 Sewing Academy series planner here.
The process of moving forward in living history is a big deal for the progressively-minded. Want a peek into the minds of those "oddball hardcores?" Take a gander at this recent thread from the forum:
New Year, New Us living history resolutions
The Sewing Academy @ Home forum is not just for clothing tech support; you'll also find a vibrant and civil community of living history enthusiasts. It's a great place to help you make your 2012 historic (and not in a Mayan sort of way.)
Transcribed from the 5 January 1861 Rural New Yorker
Borrowers
There is a certain class of persons who seem to be inveterate foes of decency, as far as the returning of borrowed articles is concerned. Have you ever, gentle reader, been blessed with one of these "borrowers" for a neighbor? If you have, you doubtless know what it is to measure out homeopathic doses of tea, starch, sugar, and all the et ceteras of housekeeping. If "trials bring strength," your patience charity, and other Christian graces are undoubtedly largely developed. Exercise has probably not been neglected, as you have daily to "just step across the way" after your washtub, smoothing iron, or most vexatious of all, your newspaper. Sometimes one is tempted to exclaim "blessed be nothing," for then at least one is free from all importunities to lend.
It seems to be an established rule with these borrowers, that book and papers are purchased by their friends "pro bono publico," instead of their individual, gratification. Perhaps from this misapprehension arises all those inconveniences wherewith they so annoy the reading part of the community. And it certainly is an annoyance, just as you have settled yourself for a quiet evening's looking over the paper, to have your neighbor step in with his stereotyped "Good evening, Mrs White–thought I'd just run over and look at your last paper a few moments."
Well, there is no use in crying, so you hand him the paper, inwardly hoping that his few minutes may be few indeed. But no, he sits immovable, until hastily glancing at the clock, he perceives it is rather an unseasonable hour. Then comes the crowning trial for you as he coolly says: –"I beg your pardon for staying so late, but really this story was so interesting I didn't mind how fast the evening was slipping away; guess I'd better take it home and finish it."
Away he goes, paper in hand, and after it has been read and re-read by the whole Smith family, after the news is old, the jokes stale, and the recipes cut out, your paper comes home, if you choose to bring it.
This is about a fair specimen of newspaper lending; and if my experience is any criterion to judge by, lending books is not much better. Now and then one is returned uninjured, but the majority come home with broken back and leaves that suggest at once the use of Spalding's glue. Others, like the Dutchman's hens, "come home missing." But it will not answer to be too severe upon this army of borrowers. We must give, "line upon line, precept upon precept, here a little and there a little," and wait patiently for that "good time coming," when every man shall be the possessor of his own Bible, his own tooth-brush, and his own newspaper.
If you, like the Cousin S from Vermont, are plagued by Borrowers, consider giving either them or yourself the gift of a new copy of The Dressmaker's Guide, Second Edition, for Christmas!
I was tickled to read this very concise look at how gentlemen can improve their mid-19th century impression… you'll want to visit and read it, too! With the expansion of citizen living history, more and more men are exploring the wide range of mid-century clothing styles, but one thing they all have in common is the need to wear those trousers at the right height! This, as with so many physical details, is another spot where looking at images of The Original Cast is a huge help; you'll enjoy some great images in the article. My thanks to Mr James Williams for making it available!
How To Wear Trousers Properly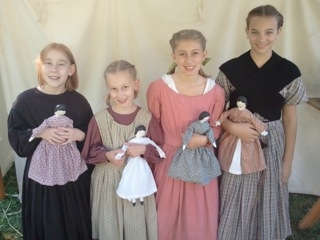 I count eight.
All four cloth dolls were made using our Great Auntie Maude's Favorite Cloth Doll Pattern, available in the Marketplace. It's so much fun to see the individuality each girl's doll has!
A simple cloth doll can be a great Christmas gift, and definitely works well in the toy basket for living history events. These girls are all set to do some high quality historic interpretation, just by sitting under a tree and playing together. They can also undertake their own doll sewing and gain useful historic stitching skills (to the delight of mothers everywhere!)
Thanks, girls, for sharing your dolls with us!
From the Sewing Academy @ Home Forum, here's an excellent topic:
Help!  My oldest, almost 12, needs new everything.  We haven't made her stays of any kind yet but I am sure it is time.  She is starting to develop, has a small bust-to-waist difference, but is still very short-waisted.

Should I:

a) Use the Girls pattern (#200) and make it stop at her waist, resulting in something very similar to a sports bra in look. b) Use the Girls pattern (#200)  and ignore her anatomical waist and make her waist about 15″ where her pants end. c) Use a corset pattern and ignore the busk (button the front closed) and using cording instead of stays with lacing in the back. d) Make her a real corset (Please say no, I'm not sure I'm up to the expense or have enough time to order stuff before I need it.) e) Some other option I am completely overlooking
This is a very common position for families with girls in the 9 to 13 age group!
Most girls, at the very beginning of their development, go through a stage where their bodies store some reserves to use during the major growth of puberty. Since she's likely to hit a lot of development in the next two years (visible and invisible), I'd go with making her comfortable corded stays now, rather than a fully boned women's corset. Go for something for support and *minimal* torso control, just enough to help her feel modest and secure.
You could absolutely go with a child-shaped stay, or if she would prefer, and a more generous figure shape warrants it, try the curvier lines of an adult's shape (control down over the top of the hip), and consider adding straps for now. Does she have a preference at this point? If so, I'd try to follow her preference as to shape, and make this as inexpensive as possible: buttoning closure in the back, or possibly front, cording rather than boning, very minimally compressive… something to give a stable platform for her clothing.
Anticipate that even if she doesn't get a lot taller in the next few years, she will most likely change shape a good deal, so use inexpensive cotton sateen for the stays (or another inexpensive, lightweight, fairly firm fabric), and cording, etc, to keep the stay updates both very affordable and very period-correct.
Many girls in living history are making their way into their teens lacking appropriate support. As they get taller, and move toward ever-lengthening skirts and petticoats, the weight of their clothing can become oppressive. Adding supportive stays and light corsets to their historic wardrobe is the best way to get a finished look consistent with images of The Original Cast, and it will also help support the increasing weight of their clothing, allowing them greater freedom of movement and far more comfortable historic living.
Between the ages of 12 and 20, a girl may go through two, three, four, or even more corseting changes, as her figure develops: all the more reason to undertake these supportive endeavors at home!
In the Marketplace, you'll find some resources to help you keep your teens and pre-teens correctly supported. Our Girl's Linens pattern has simple corded stays that are very easy to fit for support. Practical Prinkery and The Dressmaker's Guide both include chapters on corsetry, and how to make both a customized pattern, and finished corded or boned corsets.
Beyond comfortable corded stays, here's one last tip on keeping this age group well-turned-out: Growth Tucks! They're vital for drawers, skirts, and petticoats!
Happy Independence Day, everyone! We're having a lovely holiday full of patriotism and bagpipes here, and hope you're doing the same.
The event season is in full swing all around the country, and we're having a great time seeing the event pictures and notes from everyone!
Don't forget the resources we have for you in the Marketplace, above, and in the Compendium as well. You can click through to the Academy @ Home forum and visit with a great community of like-minded historic souls, or contact us directly for help with your projects. We've a few things up our sleeves to show off in the coming months, so do drop by frequently!
And if you've been dragged into Facebook (I have been, thanks to my loving Auntie C, who is, in her own way, far more fierce than any Great Auntie Maude), do take a moment to visit us there: The Sewing Academy Facebook Page
Some time ago, a writer for the Education section of National Geographic's site contacted me about participating in an article on Civil War reenactment… and of course, being a life-long reader of the magazine (and a home-schooling-Mom user of the site!) I said yes. The article was published today. Pop on over and take a peek!
Orders placed between 9 June and 24 June will ship starting Saturday, 25 June.
We'll be available to answer tech support email throughout, however!
We're pleased to announce a one-day series of Sewing Academy workshops in the Salt Lake City area, 13 June, 2011… yes, that's just a little under two weeks away!
Seating is quite limited, so please reserve yours by phoning in your registration (208-523-3673) or emailing me directly before 9 June.
We'll explore:
10:00 – 12:00  Your Historic Wardrobe
Take a look at the functional pieces you need in a historic wardrobe uniquely suited to your roles, activities, and personality. We'll discuss nation-wide, regional, and personal specifics, and see the many ways your research applies to your clothing decisions. We'll take things from the skin out, and share loads of resources for every portion of your wardrobe planning. Please bring your list of questions (or email them to me ahead of time!) This is a fantastic overview workshop, whether you're starting from scratch, or looking to upgrade the accuracy of your current wardrobe! $15
12:00 – 12:30 Brown-bag Lunch Break
Some fridge space will be available if you have things you'd like to keep cold.
12:30 – 1:45 Having a Fit
We'll look at several ways to get an excellent fit for any figure: starting from a published historic pattern (with pattern review notes!), draping with fabric directly on the body, and some very surprising, thoroughly modern ways to get a jump start on a customized historic pattern for your figure! We'll also talk about re-fitting and re-working strategies if you have existing clothing you're looking to upgrade. Please let me know if you'd be interested in being one of our fit models–you'll go home with your basic bodice shapes. $15
2:00 – 4:00 Handwork Sampler
Our foremothers were extremely clever! Learn their tips and tricks as you create a sampler of mid-19th century handsewing techniques you'll use over and over in your historic sewing. We'll cover methods to handle fullness (gathering, stroked gathering, gauging, and pleating), closures (how to set hooks and eyes invisibly and securely), and finishing (bias binding, tiny piping, the most common hem styles, and even how to make a tiny rolled hem without cussing!) Your course fee include a materials kit. $20
4:00 – 5:30 Living Citizen History
With some great wardrobes in place, it's time to get into the living history part of it! We'll look at interpretive voice, ways to engage your visitors, and how to bring your own personal passion and research into high-quality interpretive work. Telling the stories of the past effectively does not need to be intimidating. You can do it! You'll leave this workshop excited and ready to dive into active living history. $15
How to Register
Register by phone at 208-523-3673; we can take your payment information by phone
Register by email: elizabeth@thesewingacademy.org Please let us know your workshop selections, and we'll give you a call to collect payment information.
Register for the full series, and receive a special Sewing Academy edition of our Dressmaker's Guide (with bonus content only found in the series editions!), a $30 value!
Or, register for one, two, or three workshops and save 33% on your copy of the Sewing Academy edition of the Dressmaker's Guide: only $20
Pre-registration is required, as seating is limited, and kits and class packs must be assembled for each individual. Please request your seat before 9 June, 2011!
We'll send you a registration confirmation by email with the workshop location and map (we'll be just a smidge north of SLC, in beautiful Bountiful).
Plan to bring yourself, a brown-bag lunch, your favorite pen or pencil, and a favorite pair of fabric scissors or thimble if you like. Dress for comfort; period clothing is *not* required. If you'd like to dress out, feel free; please do not wear hoops, as space is limited!