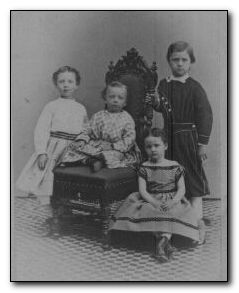 You can create wardrobe items and accessories for you mid-19th century impression that rival originals… let us help, with our informative books and patterns (printed on sturdy paper for years of use!)
Order with confidence: our site uses two layers of 128-bit encryption for added protection, and we verify key details on each transaction as we hand-process your order.
Please note: Our patterns are licensed for individual, home use only. If you are a dressmaker or vendor interested in using our patterns for your clients, please contact us before ordering. Our patterns are not licensed for general commercial use.
We welcome your questions and feedback. With every purchase, whether here or from one of our merchant partners, you can expect personal "tech support" direct from Elizabeth Stewart Clark, through private email, over the phone, or on our on-line forum The Sewing Academy @ Home. Let us help you live history!
Books
By Anna Worden Bauersmith
With full-size templates and illustrated instructions for over 68 Victorian sewing accessories and variations, Fanciful Utility will be indispensable for for any sewing enthusiast!
You'll use scraps and remnants of gorgeous silks, cottons, and wools, plus some easy-to-learn construction techniques direct from the Victorian Era. Or, combine the historic techniques with completely modern embellishment (such as fabric painting, or machine embroidery) to create a thoroughly new style of heirloom for use in modern settings.
From the most humble of needle-books, to splendidly embellished and outfitted all-in-one cases, your finished accessories are as delightful as they are useful. No more "storing" needles in the arm of the couch!
$30.00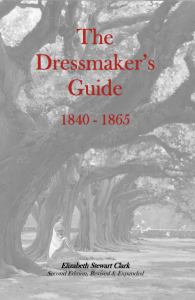 SA 300: The Dressmaker's Guide, Second Edition
By Elizabeth Stewart Clark
Expanded and revised, the new Dressmaker's Guide weighs in at 300 illustrated pages of the most up-to-date research, detailed historic techniques, step-by-step projects, and the help you need to meet your Living History goals!
New undergarment variations, a complete chapter on corsetry, and even more information on stretching your custom-draped pattern to new styles for every occasion. Encompassing the entire mid-century, 1840 to 1865, The Dressmaker's Guide is a must-have on your work-room shelf!
$30.00
 Doll Sewing
HMP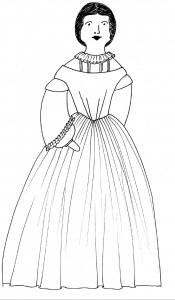 /SA 400: Great Auntie Maude's Favorite Cloth Doll
Full-sized pattern pieces for a 15″ cloth lady doll plus her entire mid-19th century wardrobe make this pattern a great addition to your living history interpretive set, or for any doll enthusiast.
From everyday clothing to fashionable variations, undergarments to outerwear, Great Auntie Maude's doll can be adapted for all-ages play, clothing demonstrations, or lovely displays.
Pattern includes full-size pieces and illustrated instructions for chemises, corsets, drawers, several petticoat variations, multiple dress styles (with mix-and-match features), night clothing, wrapper, paletot, winter hood, a valise, and even bedding projects.
$20.00
Sewing Patterns for Birth to Two Years
Dress your littlest in historically-accurate layers from the skin out!
Includes patterns and illustrated instructions for Cloth Napkins and Pilchers; Shirts & Chemises; "Flannels" (Under-dresses); Infant Stays; and Petticoat variations. All told, you'll choose among over 16 styles, plus variations, to suit your impression needs!
Instructions for period machine and handwork included.
$20.00
HMP/SA 105: Infant Gowns
One pattern, over 40 style combinations for your infant boy or girl, birth to 2 years.
Includes patterns and illustrated instructions to mix and match Natural Waist, Yoked, and "Infant" style bodices; High or Half-High necklines; Two Waistband Options; Multiple Long & Short Sleeves; Customized Skirts.
We've also included historically-accurate, growth friendly techniques to lessen your sewing burden during these first precious years.
$20.00
Keep Baby warm & cozy with hoods, coats, and shoes, sized birth to 2 years.
Includes patterns & illustrated instructions for Quilted Hoods; Scalloped or Plain Coats; Cloth Indoor Shoes; and a Warm Wool Shawl.
No need to skip cool-weather events. Now the whole family can stay safe and comfortable, in historic style.
$20.00
Sewing Patterns for Two Years and Up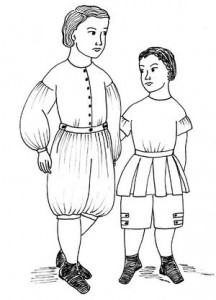 HMP/SA 220: Small Boys' Wardrobe
Sure, they'd prefer to be naked, but modesty requires we clothe their little bodies!
Ideal for boys ages 2 to 5 or 6; patterns & illustrated instructions for Boy's Frocks (pre-training); Boy's Tunics (post-training); Two Styles Trousers; Underwaist & Drawers.
Select a sleeve style, add some trim, and your little boy will be accurately clothed and ready to play.
$20.00
Start with an accurate base for an accurate finish: one pattern includes all sizes, for girls ages 2 to 12-14. Easy-fitting styles provide maximum wearing times without compromising historic accuracy.
Includes patterns and illustrated instructions for Chemises with 3 Sleeve Options; Drawers with 2 Waistband Options; Light Corded Stays; and multiple Petticoat Variations! Choose plain or embellished versions to suit any impression, working class to leisure class!
$20.00
One pattern, nearly 60 different dress combinations included for girls ages 2 to 12-14.
Includes patterns and illustrated instructions for Natural Waist, Yoked, and "Infant" style bodices; Two Necklines; Five Sleeves, Long & Short; Two Waistband Options; and Customized Skirts.
Includes many historic techniques to extend the wearing time of each dress. Learn to make one dress span three years!
$20.00
Please Visit The Compendium for Free Girls' Pinafore Projects, Shawls, and More!
7 Responses to "Patterns & Books"