Posts Tagged 'scissor case'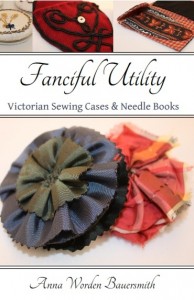 Are you ready?
Are you a fan of historic sewing and particularly, historic sewing accessories?
Would you like to be able to make gorgeous, functional, accurate pieces for yourself? For gifts? As educational tools? As something just generally nifty to own?
Then you'll want to order your own copy of Anna Worden Bauersmith's
Fanciful Utility: Victorian Sewing Cases and Needle Books
Containing full-size templates and illustrated instructions for over 68 projects and variations! The options are truly unlimited, as you'll learn the concepts and historic techniques that allow you to design your own sewing accessories for gifts or personal use. No sewing machine required! Make them with full historic styling for use in living history, or bring a unique flair to your modern sewing tools by adding creative new touches that express your personality in very modern ways.
Buy Your Copy Now in Patterns & Books or click through to access the shopping cart, see the book trailer and enjoy pics of some of the projects you'll have at your fingertips! Read the rest of this entry »