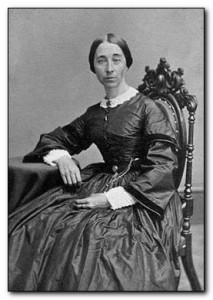 Welcome to Great Auntie Maude's Curious Compendium of Mid-Nineteenth Century Knowledge!
You may be wondering: just who is Great Auntie Maude?
She is the maiden Great Auntie who demands perfect posture, who cautions against climbing trees and turning somersaults, who worries about children and too much cake. She is the ever-so-slightly prim voice at the back of your mind.
But, she's also the first to send tea and lemon drops when you have a sore throat, and she loves to be useful. Thus, she wishes to share with you, Dear Reader, a collection of helpful articles and projects to speed you cheerfully off on the historically-correct path.
As always, should you have any questions or comments as you go, feel free to write to her Great-Niece, Elizabeth, who has pledged herself to help in any way possible.
UPDATE!
Now you may "right click" any article or project title, and save the document to your own computer in PDF. We hope this will solve some of the "hanging up" problems some readers have experienced in trying to open the articles and projects.
Remember, the files can take a bit of time to load when they are image-heavy. With some systems, waiting 10 seconds and refreshing the page may help. Otherwise, do feel free to save the file and read off-line!
Please note: we want you to share these articles! However, we do update them, and also want to make sure everyone has the recent versions. Please do share them, but if you're sharing on-line, do not re-host them (ie: upload them on another site or service). Just link to this page directly. Thanks!
Living History Articles
On Living History In General
The Progressive Questions
Change your thought process by incorporating four simple questions, and all your historic research application becomes easier!
Surviving the 19th Scent-tury
We all want to be personally pleasant. Take a peek at some historically-accurate ways to get there, and decrease your modern gear in the process.
No Refrigeration Required
Stay safer by reconsidering your menu options at living history events.
Quoth the Mavens
A tongue-in-cheek look at one of the many personalities you're likely to encounter in event settings, and what to do about it.
The Missionary Position
A polite guide to taking over the universe… or, how to get people to play with you!
Value-Added Events
If you're ready to make a few changes, read on for living history activities to delight participants and spectators.
What's Wrong with Merchant Row?
A concise guide to surviving Merchant Row with your history and your wallet intact.
Particularly for Families
Developing the Progressive Family Impression
Have a family? Your interpretive options just expanded!
Historic Hygeine
Are you plagued by smelly, filthy offspring? Take a page out of history, and keep 'em comfortable and clean without a lot of modern dreck to haul!
Hunger Strike
Needing help to handle a picky palate, and merge it with history? Read on!
Dealing With the Detritus of Childhood
Adding children to your Living History activities can sometimes seem to increase the gear load exponentially. Learn a few tested tricks to diminish the burden.
Event Safety & Your Child
It's enough to put sweat and tears into the hobby… no need to add blood. Read this refresher on keeping your family safe at living history events.
A Child's War Chest
Tuck a handful of useful ideas into your pocket, and your children will be well-prepared to enjoy any event.
Where to Lay the Weary Head
Everyone will be happiest if the children get some sleep. Here are our best suggestions on marrying sweet slumber and history.
Dressmaking Articles
On Dressing Women
2012 Big Three Pattern Review
Need some help working with Simplicity, Butterick, or McCall-published patterns? While we recommend using the independent publishers, there are indeed some good shapes available from select licensed designers! Use our quick guide to get the best results.
Assembling Your "Best Bet" Wardrobe
What are the essential elements of a functional historic wardrobe? This quick overview helps you understand what you'll need–and importantly, what you won't need.
The True Cost of Accuracy 2010
How much does it really cost to dress accurately? This article may surprise you… but you'll go forward armed with a realistic look at what you need for a living history budget.
By Hand, Or By Machine?
Is there any inherent virtue to sewing every speck of your living history wardrobe by hand, or can you legitimately use a machine? All your questions answered, and likely a bit more.
Ethical Dressmaking
A quick overview of the basics of  maintaining personal integrity as a dressmaker for hire.
Defining the Work Dress
Take a look at what's intended for active labor impressions, and how your work dress changes with your work!
On Dressing Children
Dressing Infants
Learn more about the layers needed in an accurate wardrobe for the smallest living history enthusiasts, aged birth to two years.
Cold Weather Clothing for Infants
Keep your baby toasty and safe with some common-sense historical coping methods.
Dressing Girls
What can you expect to need when your baby girl enters her childhood years? Take a quick look at the whys and wherefores.
Dressing Boys
Boys are brilliant creatures! Here's a brief overview of what you need to clothe them in historically consistent duds from the toddler years forward.
The Transitional Years: Dressing Teen Girls
Don't overlook the important years from 12 to 20… teen girls have a lot to look forward to during their transitional years between childhood and adulthood.
Dressing Children for Cold Weather
Older children need cold-weather protection, too! Get the details, and get your family prepared for cold-weather history fun.
Free Projects & Patterns
For Fanciful Utility
Additional free templates and ideas to be used with the illustrated instructions from Fanciful Utility by Anna Worden Bauersmith.  Buy your copy here.
Beaded Needlebook Project Sheet
Use beadwork or embroidery with a lovely tri-lobed needle-book template.
Projects for Women's Wardrobes
These projects are excerpted and adapted from The Dressmaker's Guide, 2nd Edition. Buy your copy here.
Having a Fit
Customizing a dress bodice is a necessary skill for every woman. With just a few step-by-step methods, you can improve any dress and create a long-term base pattern for other projects.
Gauging Skirts
This one technique will revolutionize your mid-century sewing, and save Great Auntie Maude a few dozen prayers on your behalf regarding your "blue" language whilst setting skirts.
How to Make Women's Split Drawers
Learn to measure and draft comfortable, historically correct split drawers that are adjusted to your own figure needs.
Make a Simple Chemise
Learn to measure and draft a very simple mid-century chemise adjustable to your own preferences.
Make a Basic Petticoat
Any impression can be improved with a petticoat or two! Learn the basics of calculation and construction, and make your own.
Make a Basic Apron
You'll need several of these if your living history activities involve actual work! Learn to make them simply and quickly, with good historic detailing.
Make a Simple Slat Sunbonnet
This simplified mid-century shape can be used for a summer sunbonnet, or adapted for a quick winter hood.
Make a Fringed Shawl
No hem-stitching required! Learn to measure, cut, and create a fringed hem for a wool cloth shawl–a fantastic wardrobe addition for any season.
Judicious Padding
Correct the fit of your bodice with bust padding, placed just where Nature requires.
Projects for Children's Wardrobes
The 1-2-3 Pinafore
Three measurements, and you're on your way to some easy pinafore options.
The 1-2-3 Pinafore Variations
Does your girl long for something stylish? Try this easy variation on the 1-2-3 Pinafore.
The Chemise Pinafore
If you have our dress patterns (SA/HMP-250 for girls, or SA/HMP-105 for infants), use bodice pieces you already own to create a lovely pinafore with a frilled cap sleeve.
Just For Fun
Carolina, a Mid-Century Girl
A sweet paper doll for you to print, color, and enjoy!